It's now been a few days since Super Bowl LI (51) and I can start to reflect on what most people are calling the greatest Super Bowl ever played. But it didn't start out that way. Early on it looked like Atlanta was going to run away with it, rolling up a 21-0 lead early in the game. So if you're on the Patriot sideline and looking up at the scoreboard, what do you do? Survive until halftime, head to the locker room and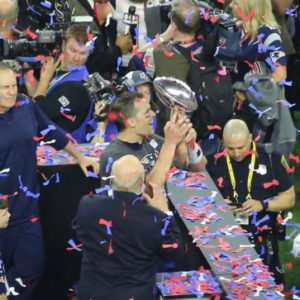 make all the changes that will hopefully turn the game around? According to the New England coach, Bill Belichick, by then it would be too late. He needed to do something now. As soon as he saw the game wasn't going their way, he needed to use every bit of his defensive genius to figure out why this was happening and then what they can do about it. And he needed to implement his changes right then – not at halftime.
I think there is a great life-lesson in this game. We all work hard to have a plan, a plan that we have researched and practiced. A plan that we believe is going to work. But then life gets in the way. There are the holes opened for the Atlanta running backs, the pin-point passing of Matt Ryan, the Atlanta quarterback, and Tom Brady's interception returned for a touchdown.  And before you know it, the Patriots are not just down, but they are way down.  They had their plan, but Coach Belichick was flexible for change.
You need to have your plan (and stick to it as best you can), but also be open and ready to change that plan as the circumstances dictate. This is what creativity is all about—being able to manipulate a plan to your advantage. What can you do to stop the bleeding, change the momentum and right the ship.
Whether we are talking about sports, business, or our personal lives, the sooner you can recognize that "Houston, we have a problem," the sooner you can create a new course of action. Belicheck saw a problem. He changed around his personnel, putting different defensive players on Atlanta's offensive players – and it seemed to work. Slowly at first, but then by the fourth quarter, the Patriots were on track, ready to make a game of it.
So what can we learn from this historic game? First, be open to recognizing that there is a problem. That doesn't just mean saying, oh, we're down by 21 points, but more importantly – how did we get there. Then once you recognize the problem, figure out your solutions. And there may be many to choose from. Then implement the changes to the best of your ability and constantly reevaluate.  The result of a willingness to change? The Patriots walked off the field with the Vince Lombardi trophy after completing the greatest comeback in Super Bowl history, winning in overtime 34 to 28.