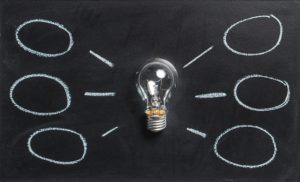 If you know college basketball, you know Coach K.  Coach Krzyzewski is the legendary head coach at Duke University who, over the span of 40 seasons, has taken his team to the final four 12 times.  (That's a big deal!)  Grant Hill, one of his star players from 1990 to 1994 made an interesting observation that I think can help us all.  Hill remarked that Coach K coached each team differently.
Think about this; every year Coach K had players entering and leaving his program.  Year to year his team was different!  And Hill tells us that Coach K led each team differently.  One of the most winning coaches in history discovered that there is not one mold that all teams fit into.  So it goes for us that there is no one way to reach your objective, your goal.
Renowned folk artist Grandma Moses told aspiring artists to follow her lead and never take a lesson.  Acting legend Alan Alda encourages green actors to take as many lessons as they can.  He believed it was the only way to break the bad habits he had taught himself.  So who's right?
I've been asked; "What's the best way to write a song, lyrics first or music?"  My answer is frustrating but also proves my point.  "It Depends."  Songs I've written were created from a lyric, a phrase, a rhyme, rhythm, or melody.  As I heard recently: There are 50 ways to write a song: pick one.
Your Leadership, creativity, or accomplishment is not about finding the one golden ticket and cashing in on it. It is about discovering who you are, how you learn, and what works for you. Then you follow that course of action to the best of your ability. It is not about success or failure, it is about finding your own way, one that satisfies you.
Here are five tips to help you find your own way:
Believe: See yourself as creative and unique. See yourself as a trailblazer. See yourself as a visionary.
Be willing to put in the work: If you are taking the road less traveled or setting off where no one has gone before, be prepared to encounter obstacles along the way. Hard work will be involved as you move forward. Be persistence.
Don't be limited by your beliefs: Open your eyes to the wide variety of possibilities, new possibilities. Be curious about the world.
Feed your flame: Passions need to be fed. Find what fuels them.
Dabble or doodle: When you find yourself in a hole and can't get out, stop digging. Distract yourself for a while with other endeavors. You mind will still be engaged with your problem.

Einstein would often play his violin when he was having difficulty solving a math puzzle.
Always keep your head up. Never sit and grieve. And always believe there is No One Way.