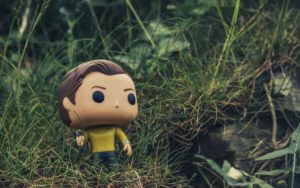 Captains log: quarantine date 156.  In facing monotony and the mundane, I am grateful.  No I haven't rewatched the entire original Star Trek series… but by now I could have!  I have, though, ventured out of my house with my colorful personalized PPE, and driven past my favorite restaurant, drooling the entire time.  Just like you, my wife and I have been social distancing from our friends and colleagues, and just like you, it's been a challenge.  And we all persevere.  We press ahead.  More than merely survive, we fearlessly face forward with an attitude of gratitude.
I recently investigated the difference between being thankful, and being grateful.  The words felt different, but I wasn't sure why.  What I found was that thankfulness is related to a feeling of pleasure or a sense of relief.  Think of saying the words "Thank you."  Gratefulness, on the other hand, is related to the action of appreciation.  Gratefulness deals with the quality of being thankful in action.
For me, keeping an attitude of gratitude starts with making it a habit. That especially needs to happen when we are in the throes of these unique times. Afterall, isn't this when we need to really hunker down and remember those people and times in our life worth celebrating? Here are six tips to help us do just that:
Open our eyes and look around – especially up. Get outside of our problems. There is so much good out there in the world that we need to recognize. Let's take our focus off of the rat race and spend a little time smelling the cheese. (Or the roses, if you would prefer.)
Write down a list of the actions, places, people you should be grateful for, that you are grateful for. At the end of the day, sit quietly and reflect on three events that happened that made you feel grateful. It is amazing how it will life your spirits.
Tell people. Share with them not only that you are appreciative of their actions but let them know why you feel that way.
Act on your feelings. Celebrate the events of the day, no matter how small they might seem at the moment. You might look back and realize that the smallest of the small turn out to be the biggest of the big.
Acknowledge what you have done to strengthen and share your positive attitude of gratitude. Look at the actions you have taken that make you a part of the solution and not just a contributor to the chaos.
Seek out opportunities to live out your gratitude.
Every day offers new challenges. We will rise, and we will fall, and we will rise again, and we will appreciate the journey. That is the stuff of life. That is what it means to be human. And one of our greatest human characteristics is our capacity to feel honest, heartfelt gratitude. 
Stay safe and be grateful.