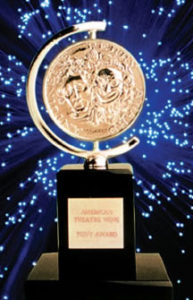 Every summer I make sure that one certain Sunday in June is clear of any and all conflicts: no parties, no golf outings, and most assuredly, no yard work. Dinner is done, dishes are washed, and the TV is mine for the night. Why? Because that Sunday is the night when I honker down (with my wife) and watch the Tony Awards, the dazzling celebration of live theatre on Broadway and beyond. Besides being a theatre person for over 30 years, I find that the awards and speeches always give me moments to reflect on and learn from. This year was no exception. I'd like to highlight just three of the most memorable moments that stood out to me:
• There is no age limit on excellence: Elaine May, age 87, took home the Tony for Best Featured Actress in a Play for her portrayal of Gladys Green in Kenneth Lonergan's The Waverly Gallery. She became the second oldest person to win that award, first place still being held by Cicely Tyson for playing Carrie Watts in the 2013 The Trip to Bountiful, winning at age 88. May (and Tyson) certainly prove the old adage that a good wine gets better with age. Here, a good actress just keeps improving and improving.
• Slowly but persistently: Andre De Shields, age 73 (another young'un) won for best featured actor in a musical, Hadestown (which also won the Tony for Best New Musical). During his acceptance speech, he articulated his three rules for longevity, rules that should resonate with anyone at any age who wants to be great at anything: 1) surround yourself with people whose eyes light up when they see you. 2) Slowly is the fastest way to get where you want to be. And 3) The top of one mountain is the bottom of the next, so keep climbing. Three powerful mantras to live by.
• She's Just a Girl Who Won't Say No!: The Tony Award for Best Featured Actress in a Musical went to Ali Stroker for her portrayal of Ado Annie in the Revival of Rodger and Hammerstein's Oklahoma! This award is especially noteworthy because Stroker is the first wheel-chair using actress in a Broadway show to be nominated for a Tony – and the first to win. And if you were able to catch her gloriously fun interpretation of "I'm Just a Girl Who Can't Say No" on the live Tony Broadcast, you could immediately see how talented and deserving she was to win this award.
Theatre people are extraordinary people. There is no 9 to 5, with a pension at the end of your 30 years. They are continually trying and testing themselves to be the very best they can be, and then be better the next time out. These three people—Elaine May, Andre De Sheilds, and Ali Stroker—are not the exceptions to the rule, but rather the examples by which all theatre people, and all successful people in general, grade themselves. It was another wonderful Sunday of reaffirming life lessons.