In 1943, two of Broadway's elite, composer Richard Rodgers and librettist and lyricist Oscar Hammerstein II, got together to write a new kind of musical. They were tired of the haphazard way musicals were being put together: hire a couple of stars, surround them with a large chorus of beautiful girls, throw in some jokes, add some catchy tunes – and voila, you most likely have a hit on your hands. These two men understood the rules of the game, having written Broadway musicals with different collaborators for years, and now wanted to change the creative formula. They were willing and ready to present something new: take a calculated RISK.
For their first project together, they decided to take a not-so-good play, Green Grow the Lilacs, and turn it into a hit musical. So away they went to write And Away We Go (its original title). RISK
As they well knew, musicals of the day typically opened with a large production number featuring 50 chorus girls dancing about on stage. But when And Away We Go opened out-of-town, the curtain rose to a solitary woman sitting on stage, churning butter, while one cowboy sang from the wings and then moseyed on stage. The chorus didn't even show up until 30 minutes into the show. RISK
There was no sex appeal in the show. All the girls wore pioneer dresses down to their ankles: RISK
There was a huge 20-miute dream ballet at the end of Act One: RISK
There was a death (Murder) on stage: RISK
The show was in such bad shape, that one of the out-of-town reviewers wrote: "No legs. No jokes. No chance." To put it mildly, their calculated risk at the moment was not adding up. But the creative team to persistent. They believed in the show and the way they had created it. So, they stuck with it. Slowly, its fortunes turned around and the show became a huge success and a tipping point in the way musicals were conceived and perceived. Now wait it minute! You're probably saying, "I've never heard of this game-changing musical And Away We Go." Well, right you are. So, let me tell you the rest of the story.
During the poor out-of-town showings, the creative team got together and decided that the show really needed a lively song in Act Two at the wedding of the two leads, something to celebrate not only their wedding but the impending statehood of the territory where they lived. So, Rodgers and Hammerstein went away, wrote a catchy little ditty, and put it in the show. The song was an instant hit. In fact, it became so popular that they even changed the name of the show to the name of the song. The song was "Oklahoma!" The show became: Oklahoma!
After its successful opening on Broadway, Rodgers quipped, "No legs. No jokes. No chance. NOW, no tickets!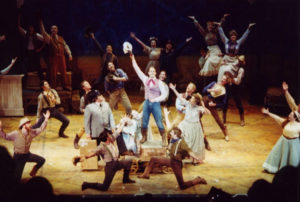 Oklahoma! started the trend for the modern integrated musical and it happened because two people believed there was a new way, perhaps a better way to write a show and they were willing to take the risk to prove it.
The three rules on risk that I take away from Rodgers and Hammerstein's first creation together are:
Make sure you know the rules, so you know what and how you are going to break them.
Believe in your vision when it comes to your calculated risks.
Stick with it.